Need help finding the right wording for your memorial plaque or gift? Get inspiration & sample quotes here for pet memorials, weddings, graduations and more.
TIPS FOR PET MEMORIALS
A pet can bring such joy to his humans, and losing a pet can be emotional. A pet memorial plaque can make a caring gift for a loved one going through the grief of the loss of a pet. Note: A granite pet memorial plaque can be used indoors or outdoors. The plaque should include the name of the pet and an endearing phrase, such as: Our Little Angel, My Beloved Friend, Best Friend Forever, Best Dog Ever, etc. Also feel free to include the years of birth and death of the pet, however, this is not required.
Then you may upload or email a good close-up photo of your pet. We can capture fur details if the photo is of high-resolution, is in focus, and has good lighting (natural sunlight is best). You may also include a small poem or something that helps you to fondly remember the good times had with your pet.
PET MEMORIAL WORDING EXAMPLES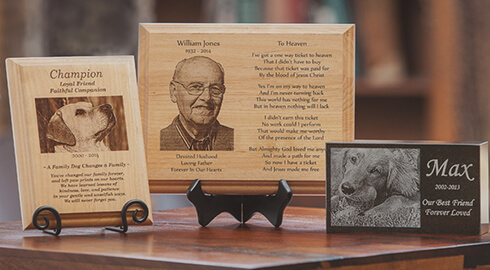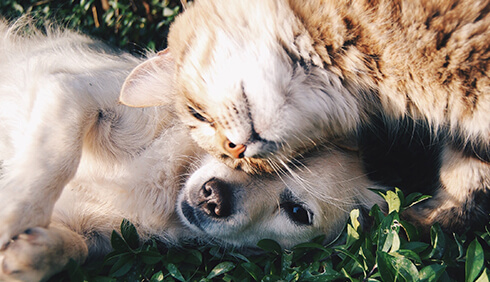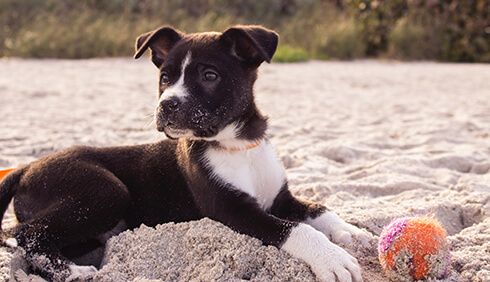 -A Family Dog Changes a Family-
You've changed our family forever
And left paw prints on our hearts
We have learned lessons of kindness,
Love, and patience through your gentle
And unselfish ways. We will never forget you.
'I believe that heaven is a perfect place, and if my dog needs to be there for it to be perfect, then she'll be there.' – Billy Graham
To make Heaven
the perfect place
for loved ones we adore,
God made sure those Pearly Gates
contained a doggy door.
Gentle and kind,
Faithful and True,
Our lives will not be
The same without you.
But we have the comfort
Of knowing each day,
We'll see you again and
In Heaven you'll play.
'Plants, Strings, Bugs, and Things…All Must Be Tasted.'
No longer by our side
But forever in our hearts
I loved you your whole life,
I'll miss you for the rest of mine
We couldn't have had a better Friend
At the Rainbow Bridge we'll see you Again
GENERAL TIPS FOR memorial WORDING:
Losing a loved one is such a difficult time, but remembering your loved one with a memorial plaque can bring such comfort to the family. Respectful wording on a memorial tribute helps to bring peace while remembering the positive and important qualities of the one we miss so much.
The basic wording can include an introduction such as: In Loving Memory Of…, With Love We Remember…, In Sweet Memory Of… Then the person's first and last name should be listed. If desired, also include a middle name or initial or the name most often used. After that, you may include the years or dates of birth and death. On the next line you may include loving facts about the person, such as Devoted Wife, Loving Dad, Much Loved Brother…etc.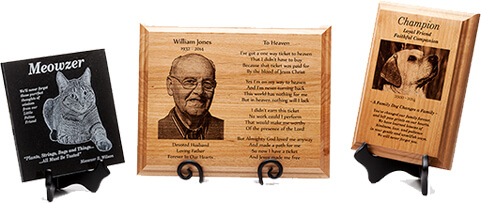 You may also upload a photo of your loved one to be engraved on the plaque. The best choice would be a photo that brings peace and happy memories of the deceased and is a clear image. You may also upload a photo of your loved one to be engraved on the plaque. The best choice would be a photo that brings peace and happy memories of the deceased and is a clear image.
examples of great Bible verses for memorials:
Job 19:25-25 For I know that my Redeemer lives, and at the last he will stand upon the earth. And after my skin has been thus destroyed, yet in my flesh I shall see God.
John 14:1-3 Let not your hearts be troubled. Believe in God; believe also in me. In my Father's house are many rooms. If it were not so, would I have told you that I go to prepare a place for you? And if I go and prepare a place for you, I will come again and will take you to myself, that where I am you may be also.
John 14:27 Peace I leave with you; my peace I give you. I do not give to you as the world gives. Do not let your hearts be troubled and do not be afraid.
example poem
I've got a one way ticket to heaven
That I didn't have to buy
Because that ticket was paid for
By the blood of Jesus Christ
Yes I'm on my way to heaven
And I'm never turning back
This world has nothing for me
But in heaven nothing will I lack
I didn't earn this ticket
No work could I perform
That would make me worthy
Of the presence of the Lord
But Almighty God loved me anyway
And made a path for me
So now I have a ticket
And Jesus made me free
Copyright 2015 Linda Rogers
Authorized for use on Laser Perfect Gifts products. Contact us for other uses or applications
weddings and anniversaries
WEDDING AND ANNIVERSARY PLAQUE TIPS
A personal wedding or anniversary plaque is a unique gift that will be displayed for life. The key is in obtaining a great photo of the couple that can be engraved with high detail onto white marble or wood. (For instance, get the original digital image instead of a photo from Facebook, which is just too small and low resolution to engrave well). See if you can get a full sized photo emailed or take a picture of the couple in full daylight. It is appropriate to give a wedding gift up to a year after the wedding, so see if the Bride and Groom can send you their wedding photo after the event.
The wedding or anniversary plaque should include the first names of the couple. A wedding plaque should include the wedding date, and an anniversary plaque should state which anniversary (such as "25th Anniversary").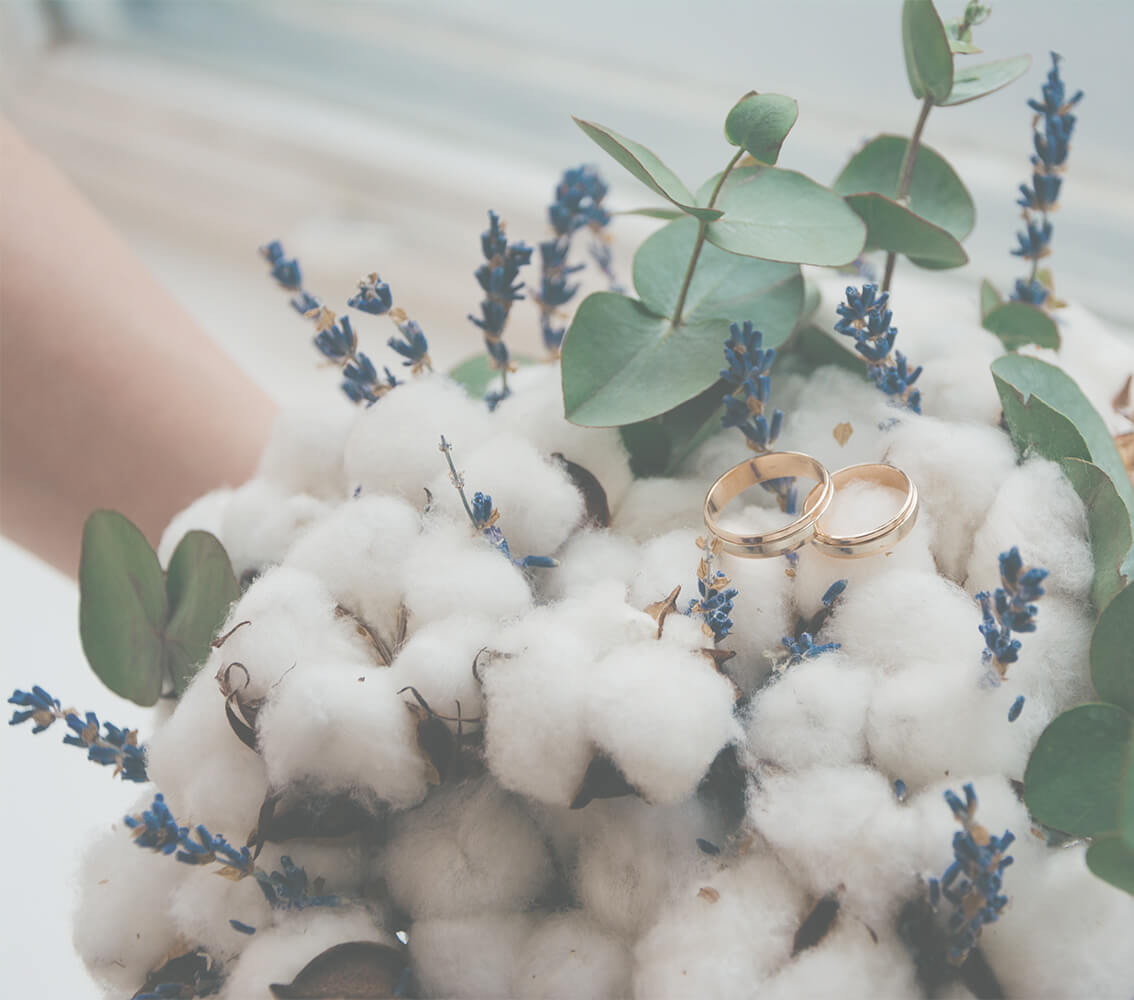 Then you may include a marriage blessing, wedding poem, or Bible verse. Here are a few examples:
A Wedding Prayer
God fill your marriage with memories to treasure Of faith and trust along the way, of love too deep to measure and bring to you as man and wife the happiness of knowing That God who fills your cup of life will keep it overflowing (See an example of this poem engraved on a wedding plaque.)
A Marriage Blessing
God Bless this marriage with Hope that is sure, Faith that is steady, and Love that endures.
Wedding and Anniversary Bible Verses:
1 Corinthians 13:4-8 Love is patient and kind; love does not envy or boast; it is not arrogant or rude. It does not insist on its own way; it is not irritable or resentful; it does not rejoice at wrongdoing, but rejoices with the truth. Love bears all things, believes all things, hopes all things, endures all things. Love never ends.
Colossians 3:12-15 So, as those who have been chosen of God, holy and beloved, put on a heart of compassion, kindness, humility, gentleness and patience; bearing with one another, and forgiving each other, whoever has a complaint against anyone; just as the Lord forgave you, so also should you. Beyond all these things put on love, which is the perfect bond of unity. Let the peace of Christ rule in your hearts, to which indeed you were called in one body; and be thankful.
A graduation plaque is a permanent way to show off a major achievement. Be sure to use a recent photo of the graduate (such as their Senior Photo if your loved one is graduating from High School).
The graduation plaque should include the graduate's name, the name of the school, college, or university, and the year of graduation (such as "Class of 2015"). If applicable, the plaque should include the degree achieved.
examples of inspirational quotes:
"All our dreams can come true if we have the courage to pursue them." –Walt Disney
"Go confidently in the direction of your dreams and live the life you imagined." –Thoreau
"It doesn't matter how many say it cannot be done or how many people have tried it before; it's important to realize that whatever you're doing, it's your first attempt at it." -Wally Amos
Bible verses for graduates:
Jeremiah 29:11 For I know the plans I have for you," declares the LORD, "plans to prosper you and not to harm you, plans to give you hope and a future."
Deuteronomy 31:8 The LORD himself goes before you and will be with you; he will never leave you nor forsake you. Do not be afraid; do not be discouraged.
Here are some great encouraging poems and verses for any occasion:
Philippians 4:13 I can do all things through Christ who strengthens me.
Philippians 4:6-8 Be anxious for nothing, but in everything by prayer and supplication, with thanksgiving, let your requests be made known to God; and the peace of God, which surpasses all understanding, will guard your hearts and minds through Christ Jesus.
Ephesians 3:17-21 I pray that you, being rooted and established in love, may have power, together with all the saints, to grasp how wide and long and high and deep is the love of Christ, and to know this love that surpasses knowledge--that you may be filled to the measure of all the fullness of God. Now to him who is able to do immeasurably more than all we ask or imagine, according to his power that is at work within us, to him be glory in the church and in Christ Jesus throughout all generations, for ever and ever! Amen.