Our Engraving process
Get ready for a customer experience that is beyond expectations when you place your order online with Laser Perfect Gifts. Why? Because we have the best process to give you a custom engraving that is exactly what you want.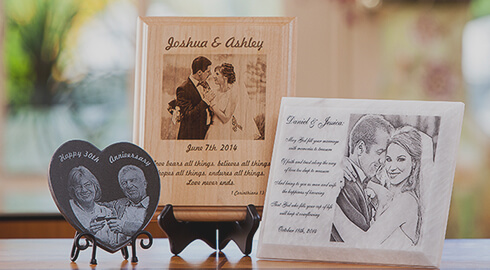 step 1.
Before you order, find the very best image you have. This is important because the higher quality the photo, the higher quality our final engraving will be (See our Tips for Choosing a Photo). Then decide on your wording, this should include all text you would like engraved (See our Wording Help).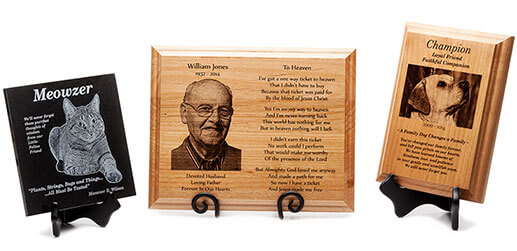 step 2.
Place your order; it's easy and step-by-step! Just go to the product you would like (granite plaque, headstone, wooden plaque…), select your size, choose your font, enter your wording, and upload your photo.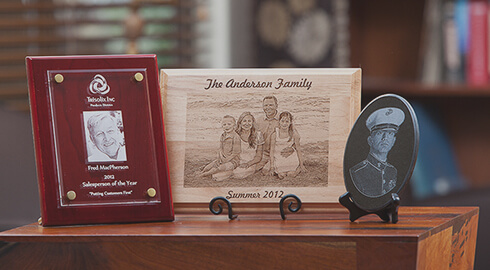 step 3.
When we receive your order, we get to work! We custom design your order with LOVE. We take individual attention to edit the photo and professionally layout the design. Because every photo is unique and every order is special, this is a meticulous process.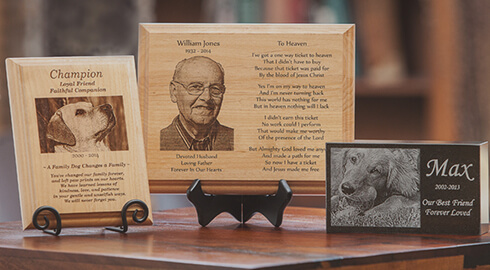 step 4.
Then we email a proof/preview to you. The proof is a close representation of what the final engraved stone or plaque will look like. You should receive your proof email within 24 hours after you order. (See our Why after I order? page for details.)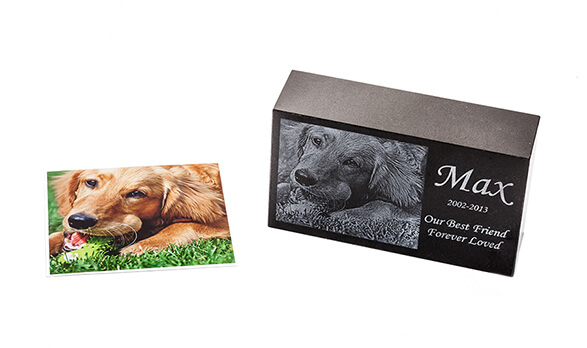 step 5.
You respond to the proof email. You can say, "I approve this for engraving," or you can request any changes you'd like. If you request changes, we will send a new proof to you for final approval.
step 6.
We engrave and ship your order the next business day after approval. You and your loved ones will absolutely
love it. From the time you order to the time the keepsake is delivered is generally about a week.
That's it! We communicate with you the whole way through. We are real people who really
care about your circumstances. We know your order represents something special, personal, and important.
It is our mission to provide comfort, happiness, and exceptional craftsmanship to every customer.
TIPS FOR CHOOSING A PHOTO
Sending us a high-quality image is the number one factor in receiving an engraved plaque or headstone that is exceptional.
Tip #1 – Send the original full size image. Size matters! If you have a small thumbnail image it will be very blurry when enlarged and there is really nothing we can do to fix the blurry look of a small, low-resolution photo.
Tip #2 – Zoom In and look at what you're sending us. Sometimes an image looks nice on a small phone screen, but when you view it on a regular monitor you can see that it really isn't in focus.
Tip #3 – If you're deciding between images, email them to us. We will look at them on our giant graphics monitor and let you know which one would make the best engraving. We would be happy to help you choose before you place your order, as switching photos mid-order could result in additional photo editing fees.
Tip #4 – If you're taking a picture of a photo: try taking it from different angles in different rooms and different lighting. Check for glare spots, reflections, and shadows. We can only do so much to edit an image of your dog with the shape of a hand holding a phone in the middle of the dog's face. Consider taking the photo to an office supply or mailbox store and having the photo scanned.
Tip #5 -- Don't send an edited image. Please leave the editing to us – we will probably do a better job of removing the photo background or fixing photo issues while retaining as much photo detail as possible.
We can work with images of varying quality and we will do our best to enhance and improve images to make the very best etching as possible, but sending a great image to begin with is the best-case scenario.
WHY YOU CAN'T SEE A PREVIEW BEFORE YOU ORDER?
Every order is a one-of-a-kind, and every photo has its own unique set of assets and challenges for engraving. In other words, there's more to this than you may realize. While other companies may take a one-size-fits-all approach, we take the approach that there are many dozens of decisions that must be made by a professional designer for you to receive the best final etching.
Maybe your photo has strong backlighting that is hiding the face of the subject, the designer will work diligently in Photoshop to try and correct this issue. Maybe your dog's ear is partially cut off in the photo, we'll automatically fix these issues if at all possible. Is the background needed for context or would it be better off to remove it? Would it be better to replace the background with a faux background (such as a black dog against black granite)? Or should we just highlight certain edges so they stand out? Where should the line breaks in the text be? Are there problems with the text that should be corrected? What about various font sizes? Or if the font chosen doesn't work with the quantity of words and size of the plaque, our designer may choose to switch fonts. Where would the text flow best with this particular photo? Whatever it takes to make everything look it's very best all while considering the overall background of black granite, brown wood grain, or white marble and how the laser engraving interacts with these different substrates. It's complicated!
Because editing the photo and laying out the plaque (or stone) and producing a realistic proof is so meticulous and time consuming, we only perform this process after an order is placed. That being said, we do offer a Satisfaction Guarantee: If for any reason we are not able to provide a proof you are happy with, we will immediately provide a full refund. So there is absolutely no risk in ordering with us, and the reward is an exceptional engraving that is above the rest.